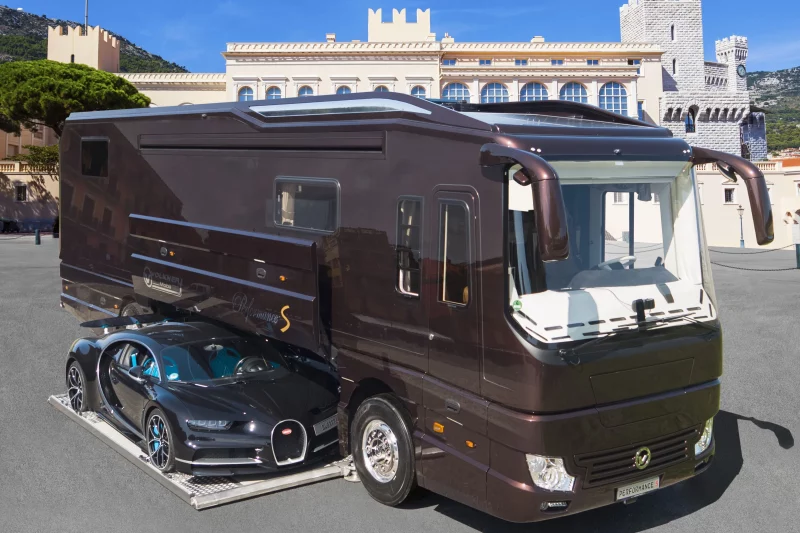 With so many luxury motorhomes available it can be difficult to know where to begin. This list includes the ten of the most exceptional motorhomes available today. All of the items on this list have the special feature of doubling as a car garage for ease of travel.
1. Snakeliner President-Suite 
The Snakeliner is possibly the largest single story motorhome on the market today. With so much room clients can decide their layout floor plans in relative ease. The motorhome can easily accommodate a car garage while also having room for dining and seating areas.

2. Palace Morelo 
The sleek aluminum and fiberglass exterior is a trademark of Morelo brand motorhomes. This vehicle boasts several technological features including an extra large doorway that can be opened remotely, and an exterior awning subtly hidden in the smooth design. Importantly this motorhome has a garage large enough for a motorcycle or smart car as well. 

3. SLRV Commander MAN 8×8 
This two story explorer has a military grade shell exterior and a roomy interior. With enough beds to sleep eight people a family of any size will be comfortable in this vehicle. A car garage is just one of the several items that can easily be installed to this 8×8 RV. 

4. Morelo Empire Liner
The second Morelo brand motorhome on this list, this vehicle stands out with its apartment grade luxuries such as under-floor heating and a rain shower. The most important quality of this car is its versatility. It has an almost infinite amount of customizations available. There is also an optional garage under the floor with room for a scooter or a Smart car.
5. Unicat 6×6 MD56c
The Unicat was built for the rugged outdoors types who still want to travel in comfort. Users can live up to two weeks disconnected from the world before needing to refuel the 24.6 kWh lithium battery bank and 1,850 W solar panel. Unlike previous Unicat models that could only support a motorcycle this RV has a carrier large enough to hold a small car on its back.

6. Variomobil Perfect 1200 Platinum
The Variomobil Perfect 1200 Platinum is the newest model available. Featured technology includes 3 automated side-outs, intelligent lighting, and high grade audio systems. The garage for this motorhome can hold a sports car located in the rear with hydraulic lifts to smoothly pull your car into the garage. 

7. Volkner Mobil Performance
The Volkner Mobil Performance is great for off-the-grid luxury living because the vehicle carries 1000 liters of fresh water and is fitted with a 1360 Ah battery. It can comfortably hold sport cars in its side car garage, and the interior has lots of storage places. Additional features include integrated blinds and an extendable gas grill. 

8. Variomobil Signature 1200
This Variomobil is incredibly versatile, the interior layout can be almost entirely customized by individual users. The vehicle is 39 feet long with three axles. A rear XXL garage can hold several different sizes of car like the Mercedes-AMG GT behind seamless and invisible panels. Like many of the other RVs listed here, this motorhome boasts luxury features like high quality sound systems and driver assistance technology. 

9. Volkner Performance S 
This is the second Volkner RV on the list and a newer model than the one previously mentioned. New additions include a glossy "BrilliantDark" finish and natural wood casings. What really sets this vehicle apart is that it comes with its own car, the Bugatti Chiron. It is no wonder that this car is the most expensive motorhome on the market today. 

10. Dembel 
The Dembel features three different garage options that can store anything from a bicycle all the way to a Ferrari. Inspired by race day motorhomes, the Dembel has a sporty exterior with a red racing stripe just beneath the windows. With a roof-mounted solar array, onboard generator and 1,000-L fresh water tank, off the grid living has never been more possible.