People living style is changing with the passage of time. When we talk about lifestyle the first thing comes to our mind is the living place of shelter where we live. People use caves as shelter in stone age. Then they started building the shelter from mud and other material. People also built apartments, luxurious home and villas for their shelter. Shortly all these are trends and trends are always changing with passage of time.
Now people live where they want, I mean they live in tiny homes, camper vans, floating architectures. Life in tiny house is one of my favorite lifestyle, so it inspired me to write more about the best tiny house for comfortable living. Here are most popular tiny houses for you if you are tiny house lover.
1-Optinid's Stéphanie Tiny House
There is perfect competition in tiny house market so it's much tricky for firms to stand out until or unless they offer something different. Therefor France's Optinid offers something different with its line of models that open up the bedrooms to the elements with sunroof-kind sliding roofs having the sleeping capacity of six persons.
2-The First Light Tiny House is well suited for Home and Outdoor
Having length 7.2-m (23 ft), the First Light Tiny House sits on a double-axle detachable trailer like Escape's Vista C. It has steel frame with its corrugated steel exterior but painted black look rustic tiny house. However the building process of the tiny house is different from the previous models by the firm because the design being handled by the First Light Studio.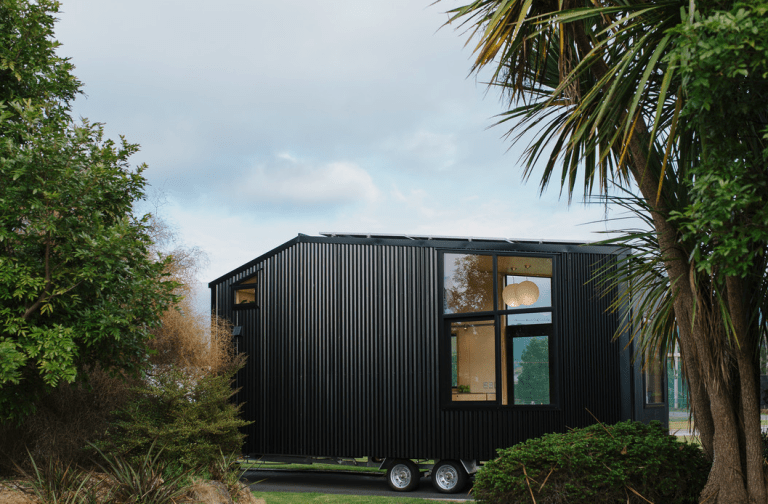 3-Living Vehicle's Net Zero offers Luxurious Off-Grid Living
The living vehicle 2020 is 27.6 ft(8.4m) long and 8 ft(2.43m) wide, having 220 sq ft(20.43 Sq m) internal area and accommodate up to six adults. The mobile home is made by pure aluminum including frame, chassis internal and external structure. The floor comprises an open living, dining, kitchen ,luxury bath room and master bed room.
4-Barrington Tops Cabin is Simply Rustic
In Sydney , Australia Richie Northcott has recently created a tiny house called Barrington Tops cabin. This house has simple but comfortable interior suitable for up to two people.
The Barrington Tops Cabin has 14 Sqm (150 Sq ft) area, the house is based on a double axle trailer which is consist on timber frame with rigid foam insulation. It has interior finish of wheather tex made by timber industry.
5-Little Sojourner by Australian tiny house builder Häuslein
The little Sojourner offers 215 Sq ft (20 Sqm) of floor space, providing lounge area, modern kitchen, bath room/laundry area with enough space for a full size fridge, oven and a front loader washing machine. However, a carpeted comfortable bed room has been provided on overhead.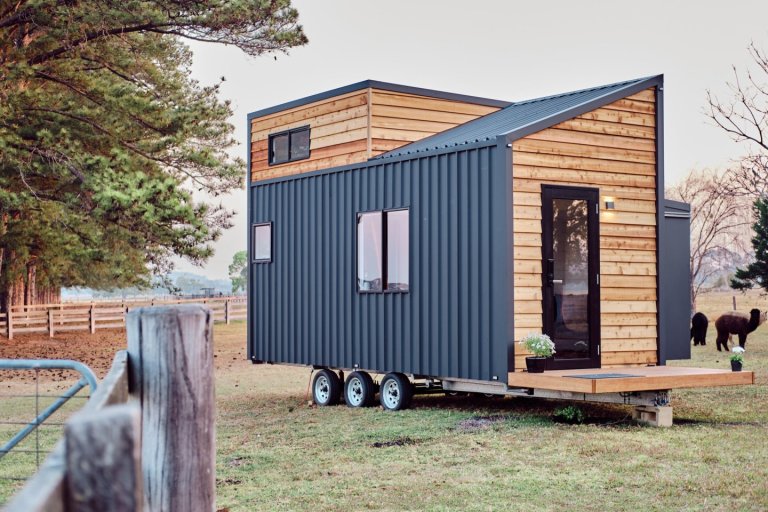 6- The Cherry Picker Tiny House
This is wider than previous Build Tiny homes which offers a wider interior layout. The Cherry Picker Tiny House is constructed on a duel axle trailer, measures 26 ft (8 m) long and 9.5 ft (2.9 m) wide, however, it is over the standard limit to relocate without a permit. The exterior of the home designed in vinyl with cedar, having larger windows fixed at specific locations for great views.
7-Tiny House from Rocky Mountain
Having its workshop and office in the foothills of the great San Juan Mountains in Durango, CO, Rocky Mountain is famous for designing and building of tiny houses. The company has introduced a new tiny house with ordinary look but keeps some unique features. Based on a triple axle frame, the all new tiny house keeps 7.9 meter (26 feet) length which is finished in cedar siding, with corrugated metal accenting.
8-Earthquake-resistant Tiny Home Cube One
Measuring 18 x 9.5 x 9.35 ft (5.5 x 2.9 x 2.85 m) tiny house is made using termite proof material having 7000 kg weight. The cube one is made in a  galvanized steel structure including best quality internal insulation to face different types of weathers.90 percent recycled materials are used in construction of living area and tempered glass is fitted in windows. To avoid termite issues compressed timber panels are used.
9-DIY Aircraft training Fuselage -The Aero Tiny House
The Aero tiny house is constructed on a towable strong steel frame, the interior measures roughly 12 sq m (130 sq ft) which includes a small living area, a drop-down dining table, a sofa bed and offers overhead lockers. The small kitchen provides space for a fridge, cooking area and a sink. The Tiny House Guys included inside a bathroom with toilet and shower.
10-Luxurious Prefab Container Home Buhaus
The house is built in 8 x 20 ft (2.45 x 6.1 m) repurposed shipping container which comprises a master bedroom with attached master bathroom, a living room and work space. It comprises a polished aluminum exterior and rift oak interior paneling. Furthermore for off-grid living, the house equipped with all necessary hookups.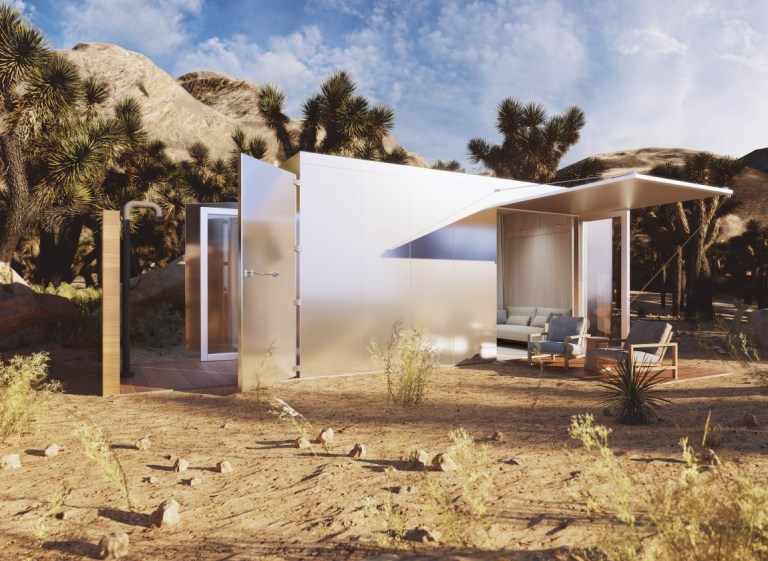 11-Prefabricated Tiny House Tenzo
Most of tiny houses are being designed for maximum four individuals however In-tenta has built fabricated a tiny house which provide sufficient living space for a family of six. Easily relocatable tiny house dubbed Tenzo keeps 430.5 Sq ft (40 Sq m) internal area which offers three-bedrooms and two luxurious bathrooms.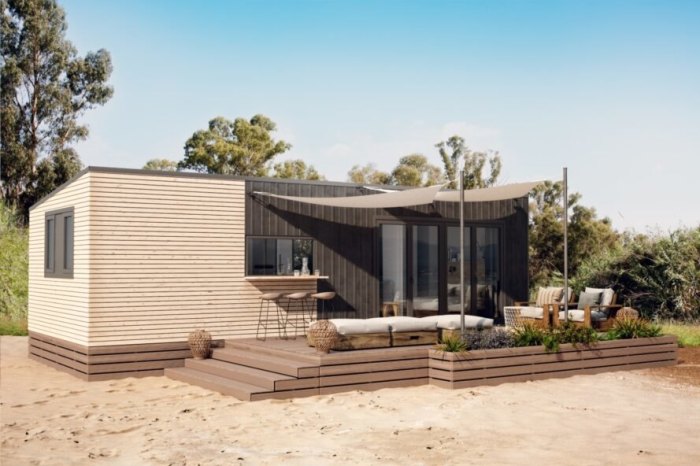 12-Ultra Flexible Tiny House Casa Ojala
IB Studio is based in Milan which is specialized in distinguished renovations of farmhouses, country homes, beach houses and apartments. The firm's portfolio includes other types of projects such as a chain of restaurants in Japan, hotels in the Umbria region and a winery in the Tuscany region, for which the firm was awarded American Architecture prize in 2016.
The firm has recently designed a nice looking tiny house dubbed Casa Ojala with minimum impact on ground. It is a non -tow-able tiny measuring 290 Sq ft (27 Sq m) area which keeps convertible properties. This is a prefabricated project which will come in plenty of colors and materials.
13-Livinghome 10 is a Tiny Home Packed with Smart Technology
Plant prefab is a California based architectural and construction company which has recently designed a modern tiny house called Livinghome 10 measuring 496 sq-ft (46-sq-m) area .
14-Eco-Friendly Tiny House RV
Mint tiny house company is one of the largest tiny house manufacturer in the Northwest. With their dedicated team, the company has built over 100 tiny house since its beginning in 2014. At Mint they create comfort of home while adding the advantages of travel trailer. Every tiny house is equipped with roomy kitchen and best quality home appliances.
The company has recently completed a 10 m (34 ft) long tiny house which is constructed on a triple axel trailer. It comprise, lounge area, two bed rooms a luxurious bath room with shower and bath tub. The home gets enough daylight through wide windows and five skylights.
15-Baluchon's Téméraire is a Wonderful Tiny House on Wheels
Baluchon is a France based firm which is famous worldwide for manufacturing of tiny houses .The firm has recently completed a tiny house for a client who lives at Southwest, France. Including some unique features, the designer has provided sufficient living space for owner and his two dogs. Usually tiny houses include very basic kitchens but Baluchon's Téméraire tiny have a nice improvement in this regard.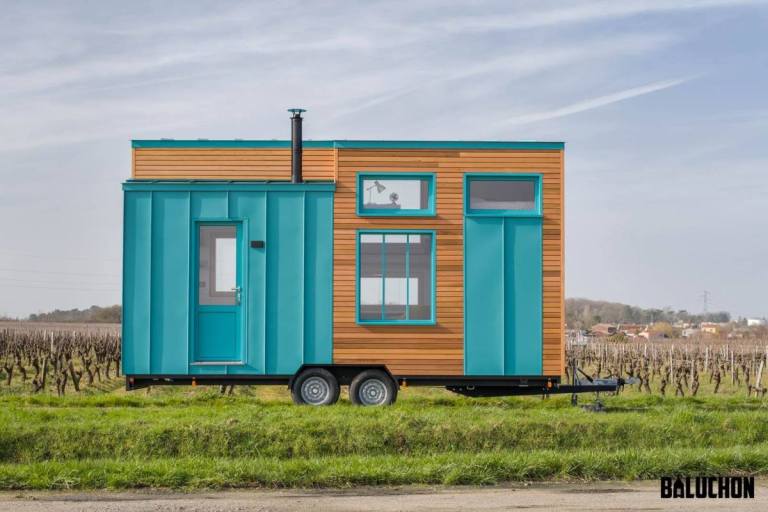 16-Egg Shape Updated Ecocapsule Tiny House
The firm has included a new model of Ecocapsule to its line up called the space which is a semi off-grid micro-unit with latest features .The Space comprises 4.67 x 2.2 m (15 x 7.2 ft) and 8.2 sq m (88 sq ft) floor space. The initial version is equipped with storage cabinets, walls and flooring. The exterior has white fiberglass shell, which covers its steel frame.