As serious overcrowding and pollution have become hurdle of traditional ground traffic system, EHang is introducing a 3D air traffic system  to make safe, autonomous and eco-friendly air mobility accessible to everyone .
Earlier this month, Ehang took to the air with its Autonomous Aerial Vehicle for the first flight in the US. It is a rechargeable two-seater AAV 216 model having 16 independent rotors spread across eight arms. This pilotless air taxi keeps a large panoramic windscreen, two doors and simple but comfortable interior. Passengers can select their destination from available options displayed on the 12-inch control panel to the front.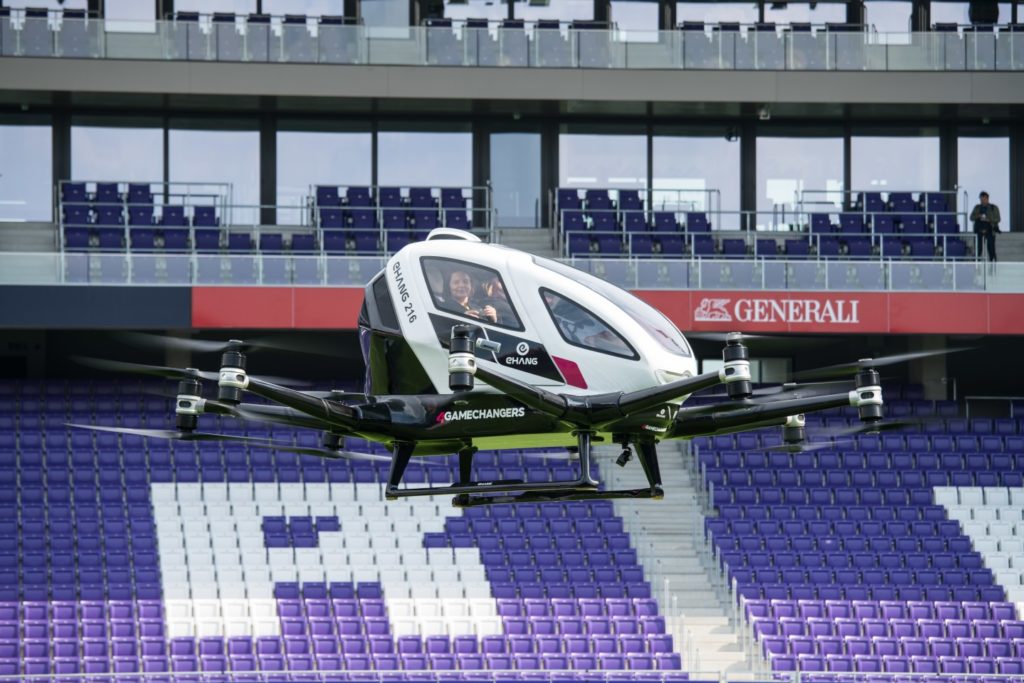 After 120 minutes charging, it is capable of a top speed of 130 km/h (80 mph) and can fly continuously for 21 minutes at around 100 km/h. AAV 216 is designed to fly up to 3,000 meters (around 9,840 ft) above sea level and can bear a total live load of 220 kg/485 lb).
The auto flight control system features is capable to get data from a magnetic compass, GNSS receivers, accelerometers, gyroscopes, , barometers, visual sensors, , millimeter wave radars to use this information to make "intelligent navigation decisions. Other systems include communications with ground based command center and battery management to ensure a safe journey.
No passenger AAVS for smart city management such as traffic control, environment monitoring and for media applications are also being manufactured by the same company.
After a successful technology demonstrated, US based flight test at the beginning of this year, Ehang is now looking forward for FAA approval to start operational flights in the near future.
For testing, training and display Ehang has delivered nearly 40 air taxis to customers and got 50 orders to deliver. Now Ehang is trying to get regulatory approval for operations in China and Europe.