Airstream is an American brand of travel trailers, they are easily recognized by their unique rounded shape and polished aluminum frame. Their ideal aluminum travel trailers are very best in working, safety,  comfort and durability. Each Airstream travel trailer is manufactured by using modern techniques in Jackson Center, Ohio, USA.
Airstream has recently unveiled its new Basecamp 20 and 20X models. The new trailer series has 6 -m  (20 feet )length which is 25 percent over the previous Basecamp  models. By fulfilling the demand for a roomier model Airstream has ranked top seller trailer since last four years.
"This new Basecamp 20 was born out of feedback that owners wanted more space, more flexibility and the option to have separate spaces for eating and sleeping," briefed Airstream CEO and President Bob Wheeler.
Extra length takes the Basecamp from couples trailer to family trailer which can accommodate four people behind large windows. The Basecamp has a U-shaped convertible sofa in the front which makes a 109 x 198-cm (43 x 78-in) bed that can accommodate two individuals. While the dual benches of the dinette transform into an extra-roomy 208 x 198-cm (82 x 78-in) bed or, alternatively, a 104 x 198-cm (41 x 78-in) single bed with a bench left free for sitting.
Kitchen and bathroom are located at the middle of trailer. Kitchen is equipped with stainless steel sink, dual-burner LPG stove, microwave, and a larger 122-L fridge. Kitchen offers extra storage space and a large window for amazing outer views .Bathroom comprises water closet, a basin and a shower .Additionally, it is equipped with, larger 102-L fresh water tank, and individual 106-L gray and 79-L black water tanks. Furthermore, there is an option of tankless water heater. The trailer include a 16,000-BTU ducted furnace also.
Hence, the new layout is more functional, more useful for families /couples. While traveling, user can leave the rear bed set up full-time and use the front sofa/table for dining.
By removing rear center table, the 20 series has made back loading easy. It comprises a solar rechargeable electrical system, anti-freeze tank heating system and optional air conditioning. The weight of trailer is 1,542-kg (3,400 lb ) and offers 408 kg 900 lb of live-load. The ground clearance is 2 feet 6 inch , it is equipped, beefier Goodyear all-terrain tires .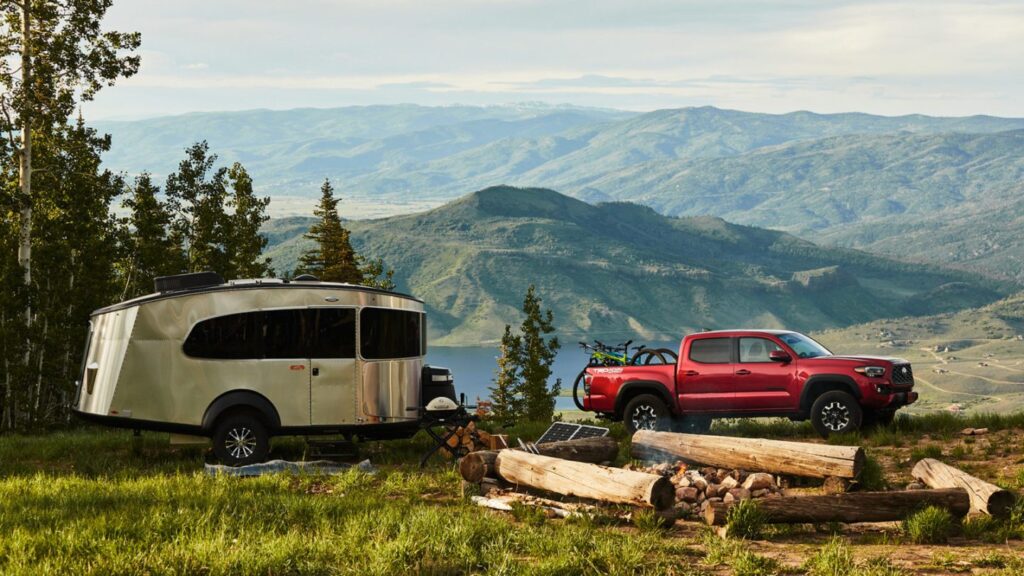 The basic price for 2021 Basecamp 20 & 20X  are US$45,900 and  $48,900 respectively. However, the 2021 Basecamp 16 starts at $38,400 and the 16X at $41,100.